The sources include social networks and messaging apps, which connect us to family and friends, but also to misinformation and sales scams that are hard to sort through, especially when they come so thick and fast. Wouldn't it be nice to have a digital friend who can help you vet such data, to check what's true and what's not?
Trend Micro Check is just such a friend—an extension for Google Chrome and a chatbot for Facebook Messenger and WhatsApp—that helps you check suspicious stories and websites, news sources and sales scams—and while you're at it, if your email address has been leaked to the Dark Web.
So how do you get it—and how does it work?
Install Trend Micro Check
Go here to download and install the Trend Micro Check Google Chrome extension (PC or Mac), which you'll pin to the Chrome menu: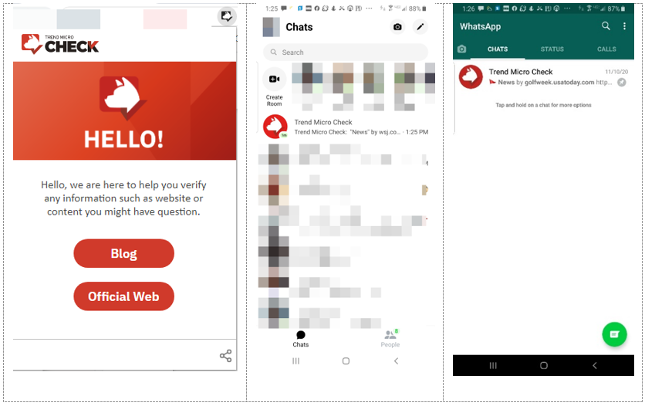 Once installed, Trend Micro Check is ready to use within the respective app.
So how do you use it?
Trend Micro Check provides a variety of checking features, depending on the context:
1. Check suspicious links. Let's say you get a suspicious link to a potentially dangerous website. Simply copy and paste the link into the search field of Chrome, or into the chat field in Messenger or WhatsApp, and Trend Micro Check will tell you if the link is dangerous. You may also take a screenshot of the link or website to check it.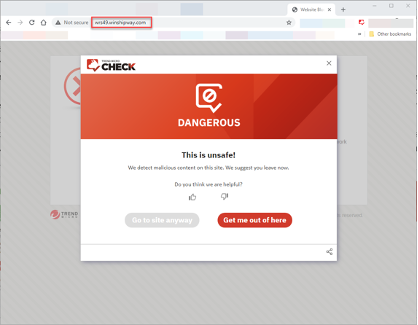 2. Check suspicious content. Or let's say you get a story from a friend that seems "iffy." Simply copy and paste the leading content, or type the phrase of the topic you wish to check, into Trend Micro Check, to see if it's true or false, misinformation or disinformation. An analysis will come back from Trend Micro Check to verify or falsify the story, incorporating the verdict from leading fact check organizations, or by providing corrective media. You can even talk to Trend Micro Check, using the microphone available in the respective messenger, to fact-check the content.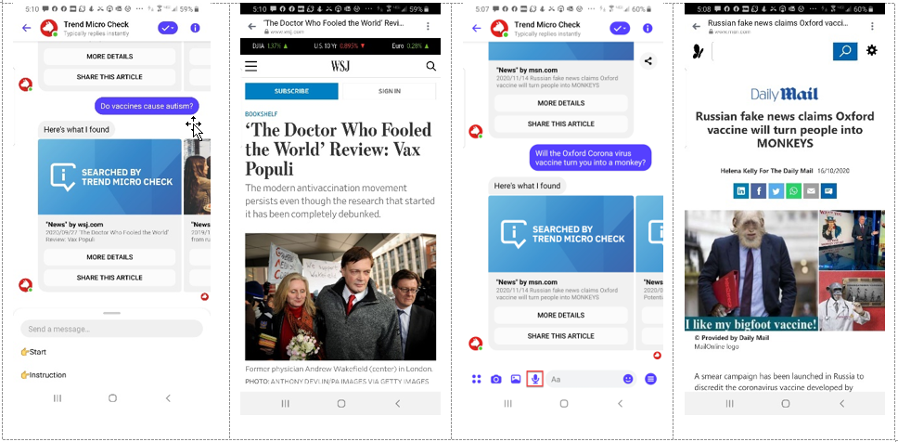 3. Check news sources with NewsGuard. Trend Micro Check also integrates with NewsGuard, "the internet trust tool," to help you check the credibility of any news organization. When you paste or type the web address of the news source into Trend Micro Check, you get a trust rating back along with More Details of the history of the news organization, which gives the reasons why it's Trustworthy or Not Trustworthy. In Chrome, you'll also get a popup if you try to go to the website of a news source of dubious reliability. You can decline to go to there by clicking the button Get me out of here, or you can Go to the site anyway.

4. Check your email address. Trend Micro Check also lets you check if your email address has been leaked to the Dark Web, so you can take practical steps to increase your security and privacy—such as changing your email password or the password of accounts that use your email address. Simply type your email address into the chat field and Trend Micro Check will return the result.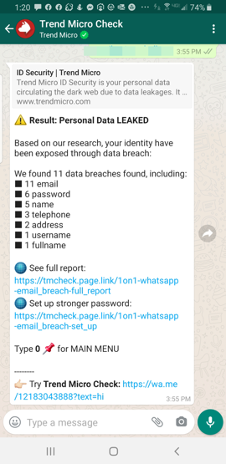 Protect yourself against holiday shopping scams!

Finally, note that Trend Micro Check is also handy for checking if a sale offer you receive online is real or a scam. In the upcoming holiday buying season, you may find such offers on the Facebook marketplace—or you might get the offer unexpectedly in a phishing email or message, sent by cybercriminals who are really out to steal your identity and credit card data when you enter them into the fraudulent website to purchase the product.
Using the functions mentioned in sections 1 and 2 above, Trend Micro Check can test the links and screenshots of the images shown in the ad, phishing email, or message. If the offer is really a scam, Trend Micro Check will alert you to the fraud.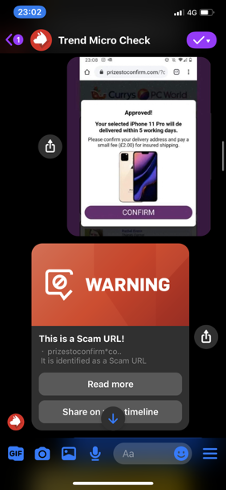 If you couple this use with wise behavior (where you make the extra effort to go to the known official site (such as www.amazon.com), not the site offered up for clicking on social media, or in the email or message—then search on the official site for the product, to see if the offer is real, and make your purchase there if it is), you'll go a long way towards keeping yourself safe from falling victim to holiday shopping scams.
Once again, to get Trend Micro Check, click on the button below:
Use Trend Micro Check to verify if a link is safe, a claim or article is true or false, a news source is credible, a product offer is valid or a scam, or if your identity data has been compromised.
Stay Updated!
Get all the latest cybersecurity news