How to Secure Your Mac and Make It Run Faster
There's an old myth still in circulation that Macs are invulnerable to hackers and cybercriminals—but is it true? The short answer is no. "White hat" tests have consistently shown that the Mac is as vulnerable to attacks as the PC. So, is the real issue just fewer Macs—or conversely, that any greater visibility of the Mac makes it a bigger target for attacks? Here, unfortunately, the short answer is yes. The more money that can be made attacking the Mac, because of any increase in popularity, the more cybercriminals will put it in their sights.

So what can you do to protect your Mac from viruses and malware—and while you're at it, ensure that it runs both smoothly and bug-free? Here are six tips to keep your Mac secure and healthy—the two prongs of preventative medicine—even as you connect it to WiFi and your home network.
Do Macs get viruses?
As of September 2020, Mac users amounted to 9.42% of the total market share for desktop and laptop computers in the world, while 28.48% of smartphone users use iPhones, according to NetMarketShare.com. The numbers show that Apple, the California-based tech giant, continues to maintain a significant number of users.

That's good news for Mac users, particularly for those who also use iPhones. But while the market share of the Mac (and the platform's longevity) remains significant, more visibility also means that the Mac is a bigger target for cybercrimes, as mentioned above.

In November 2019, for example, a cybercriminal group named Lazarus targeted Korean users via a MacOS backdoor hidden in a macro-embedded Microsoft Excel worksheet. Then, in early 2020, the same group initiated a second campaign, capitalizing on the Covid-19 pandemic. Mac users were lured into clicking an email with Covid-19 in the subject line, and an attached Word document, when launched, initiated several malicious routines and macro codes, delivering additional payloads.

Ouch! Contrary to popular belief, the MacOS's built-in security features, while providing a base of necessary protections, are clearly not enough to keep your Mac protected against the latest threats. These can include phishing attack infections, as noted above, but also ransomware, data leakes, adware and spyware, to name a just few types.
So, what should you do to keep your Mac safe? And while you're at it, what can you do to keep it clean and optimized?—always a good companion practice.
1. Update your MacOS
First things first: always keep your MacOS up to date. These updates are often released for the MacOS not just to provide user interface or configuration changes, but to address and patch system vulnerabilities. These vulnerabilities can be used by hackers to compromise your system, unknown to you.

Updating the MacOS is quite simple. In the Apple Menu in the upper left, click on System Preferences > Software Update, then click Update Now. This initiates a manual update. The update will download, restart your Mac, and install itself.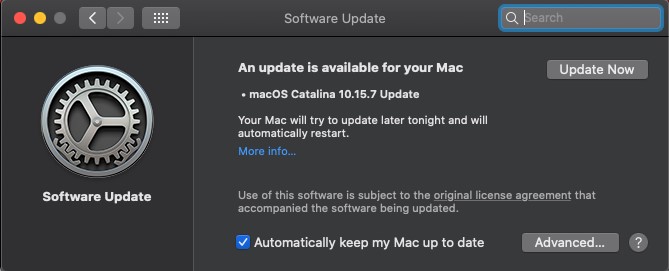 Additionally, by ensuring the Advanced option is checked, you can configure your Mac to automatically
Check for updates
Download new updates when available
Install MacOS updates
Install app updates from App Store
Install system data file and security updates.
You can also manually invoke app updates by accessing the App Store > Updates. You then click Update All, or Update for individual apps.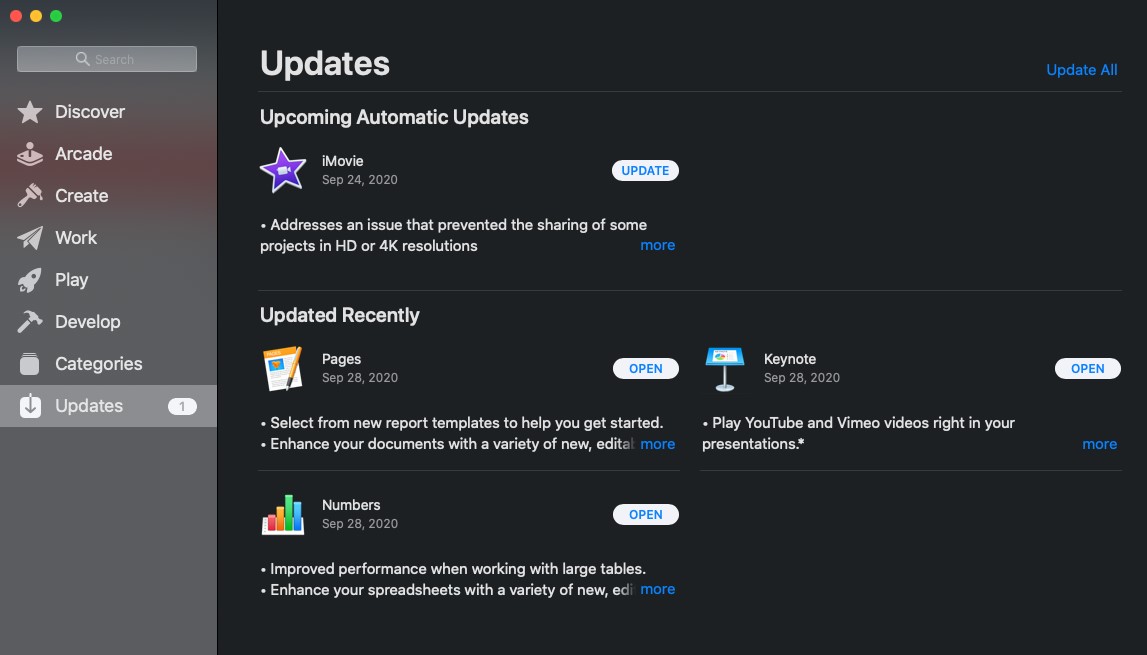 Keeping the MacOS and apps up-to-date is ground zero. But what's next?
2. Install an Antivirus that you can trust
Even when you update regularly, it's a myth that the MacOS is invincible. Installing antivirus software to defend you from malware and other threats is probably the single most important thing you can do to really secure your Mac.

When shopping, look for an antivirus solution that can minimally do the following:
Block dangerous websites that can steal personal data. (This can include ads that can install adware and malware.)
Prevent malicious software attacks and computer viruses in real-time.
Prohibit unknown or potentially unwanted programs from making unauthorized changes to your files.
Defend against ransomware and other online dangers.
Safeguard your privacy and prohibit unauthorized use of your camera and microphone.
Avoid fraud and scams by guarding you against phishing emails.
Protect your kids who are also using Macs.
Trend Micro Antivirus for Mac is designed to safeguard you from MacOS-specific malware and complex threats. It blocks web threats, stops viruses, safeguards your privacy, helps you avoid frauds and scams, and provides basic parental controls for your kids' Macs. Trend Micro Antivirus for Mac is available as a stand-alone subscription, or as part of a multi-platform solution via Trend Micro Maximum Security and/or Trend Micro Premium Security Suite, which includes WiFi Protection and Password Manager (mentioned below).

Alternately, Trend Micro also offers Antivirus One, which is distributed on MacOS through the App Store. Antivirus One offers live antivirus monitoring to protect your Mac from any kind of malware and threats to your system, security, and privacy. Once installed, it prompts you to also install AdBlock One for Safari to help block ads and adware, pop-up messages, and banners on any websites you visit, including Facebook and YouTube, for increased security from malicious ads.
3. Install a VPN
Next, you should install a Virtual Private Network (VPN) app on your Mac. A VPN conceals your IP address and disguises your location making your transactions untraceable. While using a VPN, everything you do remains anonymous, providing you greater privacy and security. A VPN also encrypts your online activities, so the data you send and receive across the internet is secure from hackers attempting to spy on you. For a description of more benefits you can get from a VPN, visit our previous blog detailing how a VPN boosts your online security here.

Trend Micro VPN Proxy One Pro offers fast, secure, stable and anonymous VPN proxy connections, to let you access websites in complete privacy because it doesn't keep a log of your online activities. Its strength emphasizes privacy, and Trend Micro VPN Proxy One can be installed on multiple Mac and iOS devices—all your Apple devices that share the same Apple Account.
4. Use a Password Manager
Next, you should create and maintain strong, individualized passwords to access all your online accounts—and it's not recommended you record your passwords in a physical journal, where they're exposed to view or loss. Moreover, it's good practice to change your passwords frequently and you need some help doing this, while automating the login process. While you're at it, securing notes about your passwords and other personal information is good practice to manage login variables. For this you need a password manager.

Trend Micro Password Manager helps you manage website login IDs and passwords in one secure location. It works with your browser for quick and easy access and keeps you safe with a secure browser when you bank online. Trend Micro Password Manager also let you identify weak passwords and can turn them into a new and complex password in an instant. Password Manager is available for Safari, Chrome, Firefox, and Edge on your Mac—but it also works to sync your passwords on PCs, Android, and iOS devices.
5. Optimize your Mac
Security and Mac optimization go hand in hand. Your Mac gets cluttered over time, which consumes space on your hard drive. Moreover, web browsers are famous for keeping massive caches and browsing history, reducing the overall performance of your Mac. However, they're not the only apps that build caches and temporary files—which is why we recommend using a Mac cleaner such as Trend Micro Trend Micro Cleaner One Pro.

Cleaner One Pro is a handy all-in-one tool for ensuring optimal performance of your Mac. It's designed not only to remove caches and half-uninstalled apps, but also helps optimize memory and CPU performance, free up disk space, and includes utilities to simplify the deletion of file duplicates and big files and photos, which can clog up your machine. Check out our two-part blog on Cleaner One Pro (Part 1 and Part 2) to learn more on how you can start to declutter and organize files on your Mac and boost its performance.
6. Feel Safe at Home
Finally, no Mac is an island. When you join your Mac to a Wi-Fi or Ethernet network at home, it becomes part of a digital ecosystem that includes all the smart home devices connected to your router, such as mobile phones, tablets, TVs, game consoles and other IoT (Internet of Things) devices. These devices continuously connect to the internet—which means your Mac can get infected through leaks in your network or through vulnerable devices that are attached to it.

To protect your Mac on a home network you need a network security solution that can check for network or devices vulnerabilities, block remote access to your Mac, and provide general web threat and virus protection, as well as parental controls to the desktops and mobile devices that your family uses.

To address network security, we provide Trend Micro Home Network Security—a plug-and-play solution that connects to your router. It's specifically designed to shield your smart home and connected devices from a wide variety of threats such as intrusion, hacking, and any attempt to leak your privacy. Start by downloading the free Home Network Security app on Google Play Store or Apple's App Store, scan your network to check devices for vulnerabilities and other security issues—then get a Home Network Security Station and pair it with the app to address what you find. It'll help protect your Mac, among other devices, from network threats.
Mind your safety and security, while keeping your Mac shipshape
In the end, securing your Mac is very important, but often overlooked because of myths about its invulnerability. It's time to start taking your Mac's security and general health seriously. Safeguarding your Mac means securing your data, maintaining your privacy at home or on WiFi, optimizing performance, and protecting it among the other smart devices attached to the home network. A safe, securely connected and optimized Mac is a healthier Mac, both inside and out.